Privacy Policy
Data Protection Statement
MK14 Components Limited aim to adhere to highest standards when collecting and using personal information. Personal data will therefore always be:
Processed lawfully, fairly and in a transparent manner;
Collected for specified, explicit and legitimate purposes and not further processed in a manner that is incompatible with those purposes;
Adequate, relevant and limited to what is necessary in relation to the purposes for which they are processed;
Accurate and, where necessary, kept up to date;
Kept in a form which permits identification of data subjects for no longer than is necessary for the purposes for which the personal data are processed; and
Processed in a manner that ensures appropriate security.
Privacy Notice
We may keep the following information about you in digital and hard copy format:
Name and contact details (as provided by you);
Shipping and invoicing address
Order & Sales history for parts and services that you have placed with MK14 Components Limited
We are committed to upholding the standards embodied in the General Data Protection Regulation and to ensuring that your information is secure. MK14 Components will not share your information with any third parties for any use whatsoever except outside of the scope of servicing your orders, such a advising couriers of contact details and address.
MK14 Components retains client information so that we can accurately determine information regarding any issues resultant of the parts we have supplied. This information is kept permanently preserve, with financial records being kept for 6 years in line with HMRC requirements.
We will only contact you about specific work you have ordered with MK14 Components or, in certain circumstances information regarding new products and company events. This is undertaken on the lawful basis of consent and legitimate interests. Should you no longer wish to be contacted please contact the MK14 Components team via email
This site uses cookies to collect information about how the site is used by its visitors. Cookies provide non-personal statistical information about visits to pages on the site, which may include the duration of individual page views, paths taken by visitors through the site, and other general information. None of this information is associated with you as an individual. However, should you wish to delete or disable the cookies, you can do so by referring to the 'Help' option on the menu bar of your browser. This will tell you how to prevent your browser from accepting new cookies; notify you when you receive new cookies; and disable cookies altogether.
Under the General Data Protection Regulation, you have the right to: access your information; rectify inaccurate or incomplete data; request the erasure of your information; restrict how your data is processed; and to object to the use of your information. Should you wish to exercise any of these rights or wish to discuss any concerns or queries please contact MK14 Components.  Please note that we do not undertake data portability and do not use your data for any predictive work, likely enquiry or orders.
Changes to the Privacy Policy
We may update this policy from time to time. Please check this page regularly for notification of any significant changes in the way we treat your personal information.
 
Latest News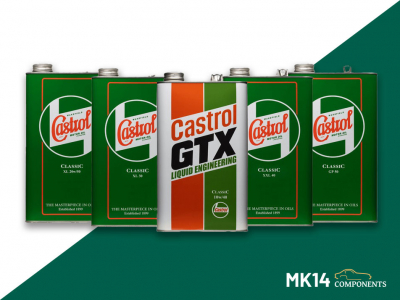 MK14 Components now stocks Castrol Classic lubricants for your Type14 Elite
MK14 Components are delighted to have teamed up with Castrol