Parts
Premier supplier of parts to the Lotus Elite Type 14 having ownership of many of the original specification and drawings but which is a continuing task to update and seek to utilise modern manufacturing methods and skills where relevant but with the emphasis on maintaining originality, as well as development of sensible product upgrades to allow more "easy" motoring in the modern world.
With 1000+ parts in an Elite, it is a significant task to ensure parts availability but one we continue to work hard on as well as offering the technical advice from experience of supplying a multitude of different cars as, as was the trait of the classic Lotus, not many were, or are, exactly the same.
We aim to have a part for you but through supply and demand challenges, if we do not, we will aim to get one for you asap to get you back on the road or, allow the work in the garage to continue.
Latest News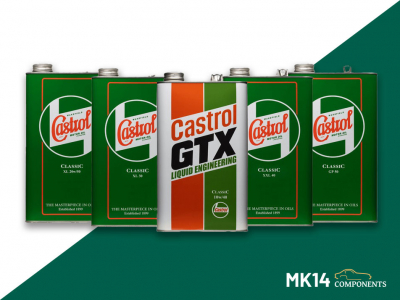 MK14 Components now stocks Castrol Classic lubricants for your Type14 Elite
MK14 Components are delighted to have teamed up with Castrol